Located on the left side of the admin interface, the Navigation Menu contains tools for adding content to your WordPress site.  There are also tools for changing the appearance or functionality of some components.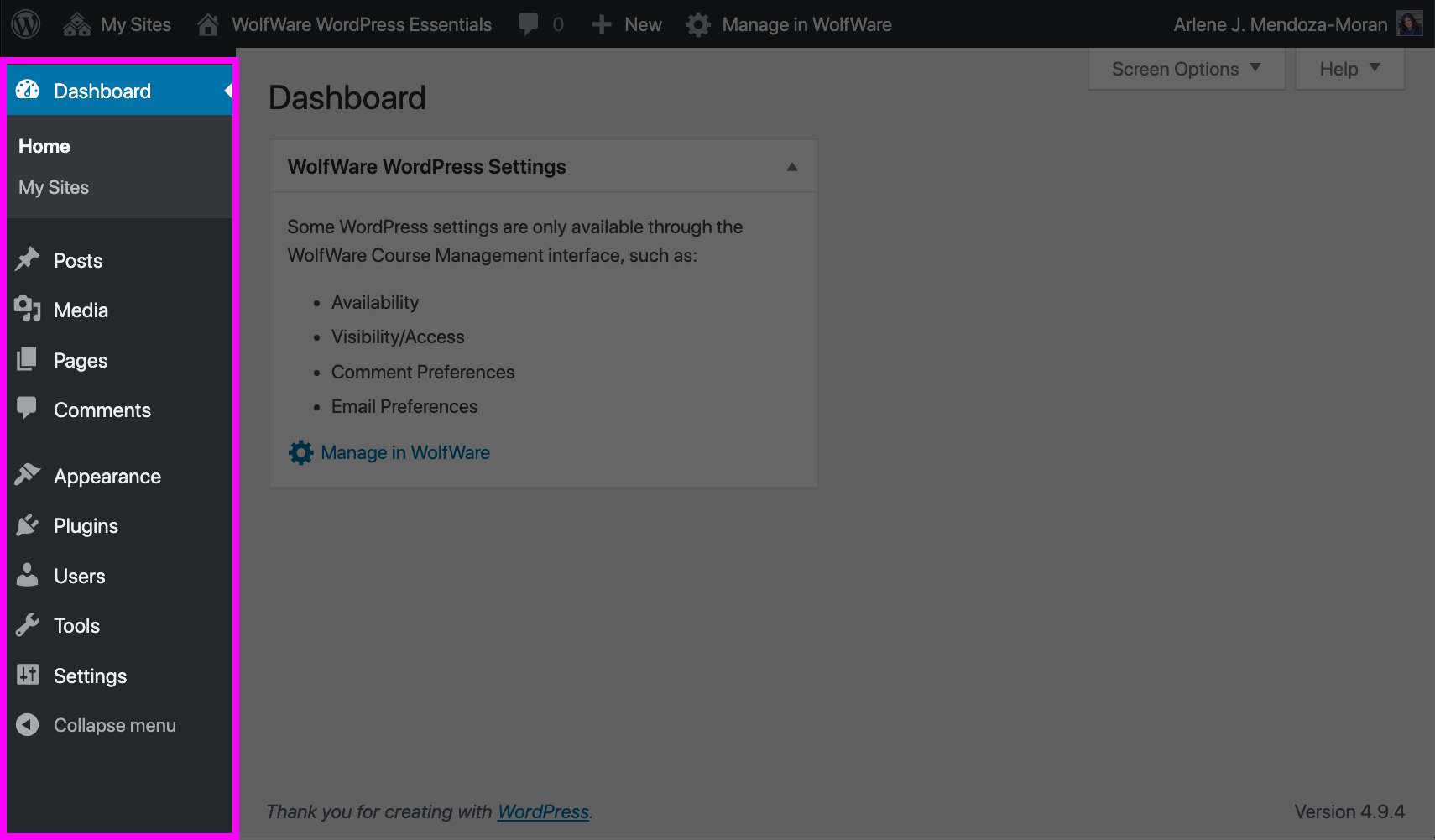 Some of the options in the Navigation Menu have submenus that appear when you hover on the them.  If you click on one of the options, the submenu will expand and stay open in the Navigation Menu while you are on that set of tools. At the bottom is a "Collapse menu" button that will minimize the menu.
Posts

 allows you to add new posts, edit existing posts, and edit tags and categories for your posts.
Media includes your Library that lists any images, audio and video files you have already uploaded. The Add New link helps you upload new media to your library.
Pages are static pages on your blog.  They are different from posts.  Pages can include information about you or the site and are not time sensitive like a post.
Comments are a way for you to get feedback from your readers. The Comments section allows you to administer your comments to approve, reply, edit, mark as spam or delete. By default, your site will moderate all comments from new people. We also have Akismet spam protection installed.
Appearance allows you to change some aspects of the look and feel of your site. Please note that there is only one Theme available for WolfWare WordPress and it cannot be changed.
Plugins are additional pieces of code that change the base functionality of WolfWare WordPress. You can opt to activate or deactivate any of the available plugins on your site. Activating a plugin may add additional options to the navigation menu.
Users 

lists all of the people with editing access to the site. Users can only be added/removed through the WolfWare settings.

Tools contains limited WordPress specific tools for your browser.
Settings 

allows you to change certain default behaviors for various elements in the website.
Back to Top