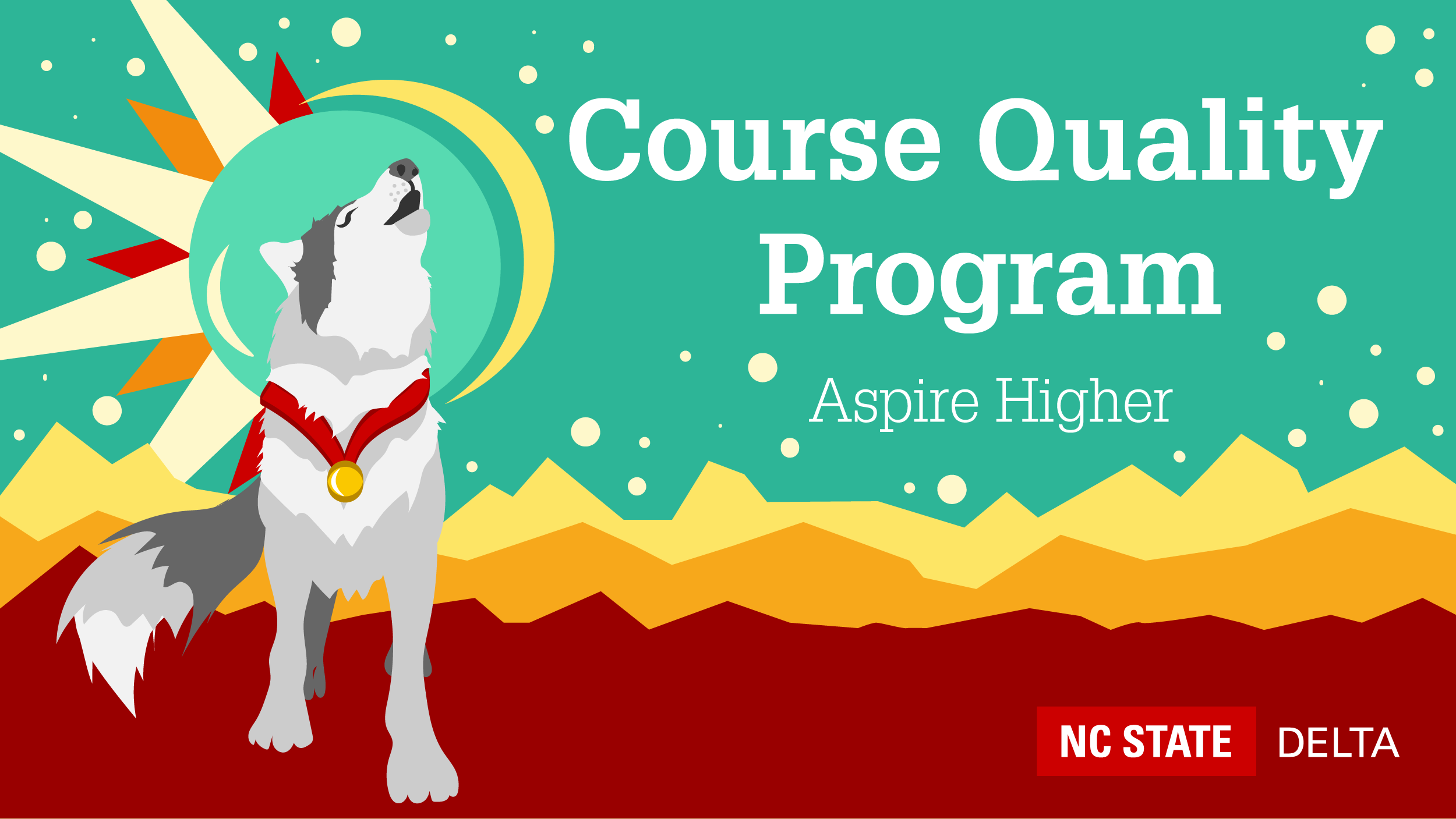 Course Quality Pathways
Course Quality Pathways at NC State provide multiple ways for faculty to improve online and blended courses and be recognized for their efforts to raise the bar for quality online education at NC State. These professional development opportunities help faculty who currently teach online to improve the quality of their online or blended course based on Quality Matters, a nationally recognized, standards-based program focused on continuous improvement of online and blended courses and programs. Course Quality Pathways are part of the Course Quality Program at NC State.
All Course Quality Pathways at NC State begin with the Applying the Quality Matters Rubric (APPQMR) Workshop.
The Applying the Quality Matters Rubric (APPQMR) Workshop is a foundational workshop focused on research-based course design standards serves as the prerequisite step for faculty and instructional support staff engaging with Quality Matters (QM) at NC State. Faculty and staff can take the APPQMR workshop at NC State as a one-day face-to-face session (8 hours) or as asynchronous online training over two weeks (16-20 hours). It is offered every fall and spring semester both online and face-to-face (f2f) by a certified facilitator from DELTA. You can register for APPQMR through REPORTER.
If there are no sessions currently available for registration, click on "Add to watchlist" to be notified of upcoming sessions.
Register for APPQMR Face-to-Face
Register for APPQMR Online
Upon completion of APPQMR, faculty can choose to pursue either the QM Essentials Pathway or the QM Certification Pathway. Faculty who have completed one of these pathways are encouraged to become peer reviewers through the Wolfpack Peer Reviewer Pathway.
---
QM Essentials Pathway
The QM Essentials Pathway is for faculty who:
currently teach an online or blended course
have little to some experience with online course design and pedagogy
are interested in applying the Quality Matters Higher Education Rubric in the design of an online course
are seeking a course review by NC State faculty peers
Learn more about the QM Essentials Pathway
---
QM Certification Pathway
The QM Certification Pathway is for faculty who:
currently teach an online or blended course
demonstrate strong knowledge of online course design and pedagogy
are ready to apply the Quality Matters Higher Education rubric to make improvements to an online course
are seeking Quality Matters certification for an online/blended course
Learn more about the QM Certification Pathway
---
Wolfpack Peer Reviewer Pathway
The Wolfpack Peer Reviewer Pathway is for faculty who:
currently teach a 3-credit hour online course
are interested in serving as a course reviewer for NC State online and blended courses
want to contribute to the goal of providing quality online education at NC State
enjoy collaborating with peers to positively impact the student experience
Learn more about the Wolfpack Peer Reviewer Pathway